Home
Talk

0
141pages on
this wiki
December News
Welcome
Welcome to Free! Wiki.


We currently have 7,100 edits to 141 articles and 1,074 images on this wiki.


Navigation

New Pages • Categories • Help
About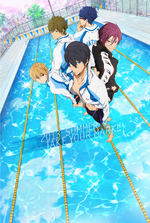 Free! (フリー! Furī!) is a Japanese anime television series directed by Hiroko Utsumi and produced by Kyoto Animation and Animation Do. It's based on the novel High☆Speed! written by Kōji Ōji.
Haruka, Rin, Makoto, and Nagisa used to be the members of the same swimming club in elementary school. They won a tournament just before their graduation and then they went separate ways. Time passed and now Haruka has been spending his high school days idly. One day, Rin comes to Haruka and challenges him to a swim. Haruka easily gets overwhelmed by Rin's swimming skills. In order to beat Rin, Haruka establishes the "Iwatobi High School Swimming Club" by gathering Makoto and Nagisa again and drafting in Rei.
Characters









Miho Amakata

The Water is Alive

Miho Amakata (天方 美帆 Amakata Miho) is the classical literature teacher at Iwatobi High School and a homeroom teacher of Haruka and Makoto. She's a supervisor of the Iwatobi High School's Swim Club.
"The water is alive. Once you dive in, it will immediately bare its fangs and attack. But, there's nothing to fear. Don't resist the water. Thrust your fingers into the surface and carve an opening. Then you slide your body through that opening. Moving your arms, your head, your chest..."
- Haruka Nanase, about the water.
Episode 9: Hesitant Loosen Up!
The Iwatobi Swim Club wins the relay and qualifies for regionals. Iwatobi High School congratulates the team and urges them to aim for nationals.
The team later goes to a summer festival where Rin is spotted. Nagisa, Rei, and Makoto work together to keep Haruka from finding out that Rin is there. Haruka finds out anyway but tells the team that he's fine and that he wants to swim with them. Read more...
Affiliates
Featured Image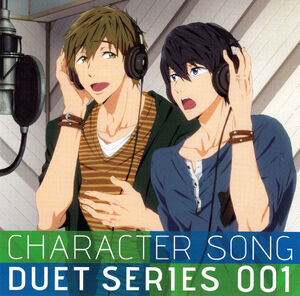 Websites
Who is your favorite supporting character of "Free!"?

Last poll results are:
What is your favorite episode of "Free!"?
1. Episode 12 = 194 votes (69.29% of all votes)
2. Episode 6 = 30 votes (10.71% of all votes)
3. Episode 9 = 16 (5.71% of all votes)
4. Episode 4 = 7 (2.5% of all votes)
5. Episode 11 = 6 (2.14% of all votes)
6. Episode 1 = 6 (2.14% of all votes)
7. Episode 3 = 5 (1.79% of all votes)
8. Episode 10 = 4 (1.43% of all votes)
9. Episode 5 = 4 (1.43% of all votes)
10. Episode 8 = 3 (1.07% of all votes)
11. Episode 7 = 3 (1.07% of all votes)
12. Episode 2 = 2 (0.71% of all votes)

Total votes: 280
Upcoming Events
November 11
Tatsuhisa Suzuki
November 17
Makoto Tachibana
November 18
Akeno Watanabe
December 6
Nobunaga Shimazaki
December 14
Rei Ryugazaki