Iwatobi Town
Location Information
Kanji
イワトビ町
Rōmaji
Iwatobichō
First Appearance
Episode 1

Iwatobi Town (イワトビ町 Iwatobichō) is a location where most of the characters from anime series Free! live in.
Iwatobi Town is the hometown of most of the characters in the series. It is a small town with an average-sized population.
Locations
Edit
Iwatobi High School
Edit
Main article: Iwatobi High School
Iwatobi High School is a high school attended by most of the main characters of the anime series Free!. The school building is divided in north and south. Its appearance is simple and tranquil. A peaceful location near the sea, where the smell of ocean water is in reach. The school building has an appearance imitating a ship and appears to be moving on the sea with a backdrop of a blue sky.[1]
An outdoors pool wasn't used due to the lack of a swimming club and it became rusty and overgrown with weed. However, Haruka and the others made it clean beyond recognition, and nowadays the pool is used for hard practice whenever possible. From then on the pool has become the place for their activities.[1]
Samezuka Academy
Edit
Main article: Samezuka Academy
Samezuka Academy is an all-boys high school known as a swimming powerhouse. Samezuka Academy is a boarding school.
Iwatobi Swimming Club
Edit
Main article: Iwatobi Swimming Club
Iwatobi Swimming Club, also known as ITSC, was the club where Haruka, Makoto, Rin and Nagisa used to practice during elementary school. The club was closed some years ago and was demolished recently.[2]
Iwatobi Station
Edit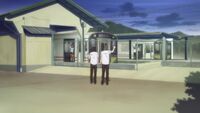 Most of the characters use trains for transport, so they're seen waiting on
Iwatobi station
a lot. Most common users of trains among main characters of the series are
Nagisa
and
Rei
. They seem to use the same line of trains, so they probably live in the same part of the town.
Iwatobi station had its first debut in 3rd episode while Nagisa was waiting in the train to set off after school. He tried to convince Rei to join Iwatobi High's Swim Club by following him around the station, but Rei refused everytime Nagisa asked him. After Rei made friends with Nagisa, they're seen traveling in the train together.[3]
Haruka and Makoto, however, don't use train transport, prefering walking to school together.[4][3][5]
Iwatobi DolphinS
Edit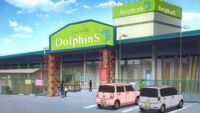 Iwatobi DolphinS is a store in Iwatobi Town where Haruka, Makoto, Nagisa and Miho went to buy supplies they needed for the renovation of Iwatobi High's outdoor pool. They seem to have all sort of equipment considering pools and gardening. It is also shown that they offer lots of fishtanks various sizes of which Haruka wanted to enter one of them, but was stopped by worried Makoto and Nagisa.[2]
Sports ZERO
Edit
Sports ZERO is a shopping centre where Haruka, Makoto, Nagisa, Rei and Gou went to buy Rei a new swimsuit. Haruka happened to run into Rin and Gou ran into the captain of Samezuka's swim team, who revealed to her that the whole team came to buy new swimsuits. It's shown that it has a huge choice of men's swimsuits and other equipment for swimming.[5]
Iwatobi Port
Edit
Since Iwatobi Town has an access to the ocean, they have a port as well. It is seen a lot of times (usually while Haruka and Makoto are going back home after school), but main characters didn't actually use it until episode 5 when Goro used his squid fishing boat to get them to the island where they wanted to hold a training camp.[6]
Sano SC is the swimming club Rin used to be a part of in elementary school, before he joined the Iwatobi Swimming Club.
References
Edit