Rei Ryugazaki
Talk

5
157pages on
this wiki
"
But, it's not beautiful!
"

— Rei Ryugazaki.
Rei Ryugazaki


Kanji
竜ヶ崎 怜
Rōmaji
Ryūgazaki Rei
Also known as
Rei-chan (by Nagisa)
Speedo Glasses (by Rin Matsuoka) [1]
Description
Gender
Male
Sign
Sagittarius
Birthday
December 14th
Age
15-16
Height
177 cm (5'10")
Weight
65 kg (143 lb)
Professional Status
Occupation
1st year High School Student
Affiliation
Iwatobi High School
Track Team (former)
Swimming Team
Swim Style
Butterfly stroke[2]
Personal Status
Relatives
Father
Mother
Older brother
Debut
Anime
Episode 2
Voice Actors
Japanese
Daisuke Hirakawa
Yōko Hikasa (Child)

Rei Ryugazaki (竜ヶ崎 怜 Ryūgazaki Rei) is one of the main characters of the anime series Free!. He is a first year who joins the track team, but later joins the Iwatobi High School swimming team as their butterfly stroke swimmer.
Appearance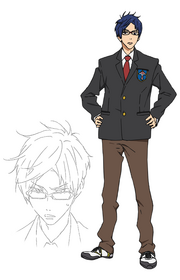 Rei is a tall young man with short, dark blue hair and purple eyes. He wears red-framed glasses. His usual school uniform consists of light brown trousers, a white shirt with a red necktie, a dark gray buttoned up jacket and black and white sneakers. During the spring and summer, he wears his summer uniform that consists of gray trousers, a white shirt with short sleeves and a dark gray collar, a red dotted necktie and the black and white sneakers.
While swimming, he wears black long leg swim pants that have blue patterns on them.
Personality
Rei is considered handsome and intelligent because of his looks and good grades. He also has a penchant for beautiful things and the thought of exuding anything but beauty through his actions, causes him to dramatically lose his cool.[3]
Rei may initially seem like a calm and composed character, but he is in actuality quite comical in a sense that he sometimes lets his confidence get the better of him. He is however, depicted to be a hardworking and determined individual, unwilling to relent to his inability to swim despite several failed attempts.[2]
Rei has a theoretical approach when it comes to sports, as he usually calculates distance, angle, and other factors in his mind before actually making an attempt. Because of his rigid nature, he has a tendency to overlook the fun and enjoyment that comes with the activity. As Haruka told Rei, he needed to be "free" in order to swim properly, because he is constantly calculating and underestimating the water.[2]
History