Welcome
Welcome to Free! Wiki.


We currently have 22,285 edits to 537 articles and 4,916 images on this wiki.


Navigation

New Pages • Categories • Help
News
-2.6.2014: Free! Wiki Facebook page was opened!

-19.5.2014: Free! Wiki reached 200 pages!
-3.5.2014: Free! Eternal Summer official site opened and a new character has been introduced. [1]

-30.4.2014: Free! Eternal Summer CM was uploaded on KyoAni's YouTube channel.
About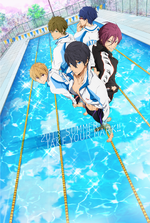 Free! (フリー! Furī!) is a Japanese anime television series directed by Hiroko Utsumi and produced by Kyoto Animation and Animation Do. It's based on the novel High☆Speed! written by Kōji Ōji.

Haruka, Rin, Makoto, and Nagisa used to be the members of the same swimming club in elementary school. They won a tournament just before their graduation and then they went separate ways. Time passed and now Haruka has been spending his high school days idly. One day, Rin comes to Haruka and challenges him to a swim. Haruka easily gets overwhelmed by Rin's swimming skills. In order to beat Rin, Haruka establishes the "Iwatobi High School Swimming Club" by gathering Makoto and Nagisa again and drafting in Rei.
Characters
Episode 14: The Stroke of a Chance Encounter
Rin reminisces with Sosuke, his classmate prior to transferring to Iwatobi Town during elementary school, who decided to spend his last year of high school in his hometown before swimming professionally. Meanwhile, Read more...
Affiliates
Want to become an affiliate of us? Request an affiliation!
Free! Wiki in Other Languages
Featured Image
Websites
Poll
Who is your favorite seiyū?
Poll Results
Last poll results are:


Why do you watch "Free!"? What is the main appealing factor?

1. Character development = 869 (76.43% of all votes)
2. Animation = 155 (13.63% of all votes)
3. The plot = 71 (6.24% of all votes)
4. Sports genre = 42 (3.69% of all votes)


Total votes: 1137



Upcoming Events
May 8th
Satomi Sato
May 25th
Satsuki Yukino
June 4th
Daisuke Hirakawa
June 8th
Mamoru Miyano
June 11th
Kenjiro Tsuda
June 30th
Haruka Nanase